The new NWFA engineered wood flooring refinishable program identifies real wood engineered floors and flooring products with a wear-layer thick enough to be sanded & refinished. Superior Hardwood Flooring is proud to say we are certified in this new program with the NWFA.
When consumers hear "engineered" flooring, they frequently think of laminate, luxury vinyl tile/plank, and other fabricated products.  This new NWFA program is designed to help identify real wood hardwood floors and separate them from imitation products. Roughly 80 percent of all hard surface flooring products have a wood look. This is making it difficult to tell one product from the next and the language of "engineered floors" does not help. This program will help aid distributors, retailers, and homeowners in their decision-making process and determining what is a real wood engineered floor, and more importantly, what is not.
Our Engineered & Enhanced hardwood is certified under the NWFA Engineered Wood Flooring Refinishable Program
The NWFA qualifies "refinish" as "sanding a previously finished floor to bare wood and applying a new stain or finish." Hard surface flooring categories have become increasingly blurred, and many homeowners don't even know that refinishing an engineered or solid wood floor is even an option. Having the ability to refinish a wood floor means your floor will last for generations, as you can re-envision and redefine your space without replacing the floor. Different sheens and colour can be updated during the remodeling process to suit the taste of the new homeowner or providing a new look. Refinishing a wood floor is typically more budget friendly as well.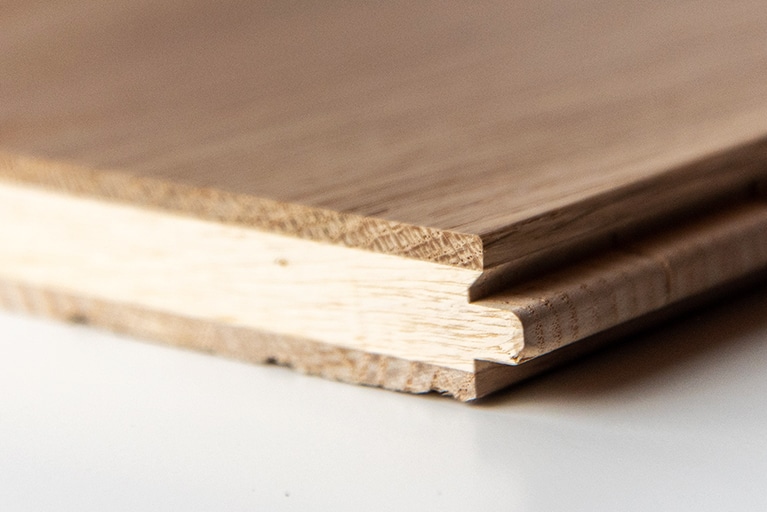 products must meet the required wear layer thickness
All types of engineered wood flooring products are eligible to apply to carry the engineered wood flooring refinishable logo. To qualify, products will be evaluated to ensure they meet the following minimum wear layer thickness requirements:
Factory Finished Smooth Wood Flooring – 2.5mm (3/32") – equivalent to our smooth semi-gloss, low sheen, and matte products.

 

Sculpted/Distressed Wood Flooring – 2.5mm (3/32") at the lowest point. – equivalent to our wire brushed and hand scraped products.

 
Superior Hardwood Flooring smooth, wire brushed, and hand scraped products all have a 4mm (5/32") wear layer, almost double the standard required for certification. When you buy an engineered flooring product from Superior Flooring, rest assured knowing you are purchasing a real wood floor.